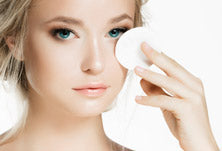 Whether you're striving to be a makeup artist for big motion pictures, or you just want to use the stuff the pro's use, it's always good to know what makeup artist carries with them at all times.
Congratulate yourself on stepping up your makeup routine. Makeup is a creative, artistic, fun, and dramatic outlet that can brighten a mood and boost self-esteem. However, in order to get that professional look, a fair amount of thought and planning is required; and to accomplish that you will need to compile a professional collection of supplies. This is no small feat.
Place a hold on that airbrush kit! This is a basic step by step guide to the top products you will need to maximize a look for the big screen, the small screen and the real world. For the novice makeup artist there are a some essential products that will make you look your best. The rest is more advanced and can come later.
First, The Case
A dedicated makeup case is crucial. The case can be fabric or plastic but should have a handle, plenty of compartments and should be easy to clean. Some makeup artists like a hard plastic case found in craft stores designed for beads or jewelry. Japonesque makes an incredible train case that is available in four styles. The classic hard shell design opens to feature four tiered trays for brushes, makeup and accessories. There is a lock-snap enclosure that ensures your beauty essentials travel safe.
Makeup Bag Essentials
1. Tools to Prep Your Canvas
Work your magic on only the best surface. Keep makeup remover wipes, a small soap-free cleanser, alcohol-free toner and moisturizer handy in your case. Many professionals will "de-pot" products from a favorite bottle or jar into a small re-usable container. These items will refresh and hydrate so that skin is at its best. Remember, all products should be hypo- allergenic and perfume free.
Have extra room in your case?  Add lip balm, primer and line filler.
Over achiever? Add breath mints or gum, business cards, tissue.
2. Tools
Stock up on a number of tools. Most of these items are low cost and easy to stockpile. You should have at least one of a wide variety of makeup brushes, from chiseled to super dome dusters. Eyelash curlers, tweezers, and some like to carry cuticle clippers. Disposable tools are also very important. Keep disposable mascara wands and gloss wands on hand as well as cotton swabs, cotton balls, oil blotting papers, and disposable sponges.
Have extra room in your case? Throw in a cape, color wheel, mixing palette, spatulas, and hand mirror. DO NOT mix makeup on the back of your hand! 
Over achiever? Keeping brush cleaner in your makeup bag can help you keep your tools as new as the day you bought them.
3. Makeup
It's funny. Makeup isn't even the first thing on the list of makeup kit essentials! We do not recommend using a liquid foundation professionally as it is over 90% water. Only the best of skins can use liquid foundations and be HD camera-ready. Crème foundation has much higher levels of pigment (40%-80%) so you can get greater coverage. The best bang for your buck by far is to use palettes - either use your own or buy them already made - of blush, lip and eye shadows. With palettes, you can get a feel for favorite products and brands and cut down on bulk of multiple products. Don't forget eye liner, brow pencils and a lip liner, plumper and gloss.
Have extra room in your case? Finishing spray is all the rage, for a dewy youthful glow, add this to your routine.
Over achiever? False eyelashes, eyelash applicator, and glitter for hair and body can spice things up when needed.
Maintenance
You've taken the time and effort to put your professional makeup collection together; now consider that there is an equal amount of time and effort to maintain it. Keep brush cleaner on hand and clean often - preferably at night so that bristles have a chance to dry by morning. Also keep alcohol, hand sanitizer and anti-bacterial wipes to ensure that your products are safe and free of germs.
Here you have the basics to a professional makeup kit. What you choose to add and subtract is really a matter of personal preference. Remember, makeup can transform an image and image is important. The more time and effort you put into your collection, the more you will get out of it. Have fun, its makeup and it makes people feel fabulous.